ProVia Entry Doors
ProVia Door is committed to making doors the professional way. Our entry doors are energy efficient, built to the highest quality standards and give you a superior alternative to consumer-grade doors that are sold through home improvement retailers.
All ProVia entry doors qualify for the ENERGY STAR® program. ENERGY STAR was created by the U.S. EPA and Department of Energy to help consumers identify products that save energy and money and protect the environment. ProVia is proud that each door it produces is an ENERGY STAR door. Installing these energy efficient doors will save you money on heating and cooling costs, improve interior comfort and increase the value of your home.
To learn more about our ENERGY STAR doors, visit our fiberglass and steel door product page. ProVia's professional class doors are made from the highest quality materials, starting with 20-gauge galvannealed steel that gives you 49% more steel than a consumer-grade door. This exceptional durability is endorsed as "the door preferred by America's top remodelers" and is backed by a lifetime limited transferable warranty.
State-of-the-art methods of customization make it possible for you to create entry doors that are made to order for your home. Ask your dealer about ProVia Studio - The visualization program that allows you to choose the size, color, glass and hardware of your choice for an end result that will set your home apart for years to come.
Signet Fiberglass

Signet fiberglass doors exemplify our latest effort at raising the bar for fiberglass entry systems. The woodgrain and embossing are astonishingly true representations of a real wood look. Structurally, the Signet door is far superior to traditional fiberglass doors. The strike and hinge stiles are a robust 4 1/4" and 2 5/8" respectively, and are dovetailed to the top and bottom rails forming an integrated frame, ensuring unmatched strength and durability.
Heritage Fiberglass

Fiberglass doors provide long-lasting good looks and are specifically engineered to resist denting, splitting, cracking and warping. The lock area for doors made of fiberglass is reinforced to provide a solid mounting surface for decorative hardware. And a high-performance composite material is used on the bottom rails of ProVia's fiberglass door for excellent rot resistance. The superior square-edge design and high-definition embossing on each fiberglass door create an attractive wood-door appearance.
Steel Doors

Smooth and textured professional grade steel doors from ProVia Door provide a durable and energy-efficient addition to your home that will last for years to come. Both the smooth steel doors and textured steel doors are constructed of 20-gauge galvanized steel, which gives you 49% more steel than standard consumer grade 24-gauge steel doors. This exceptional durability is endorsed as "the door preferred by America's top remodelers" and is backed by a lifetime limited transferable warranty. The face and edges of each door made of steel by ProVia are constructed from one continuous piece of steel for added strength and durability. And the lock and deadbolt area of every ProVia steel door is reinforced with commercial grade steel for added structural strength that will stand up to the elements and heavy use.
Style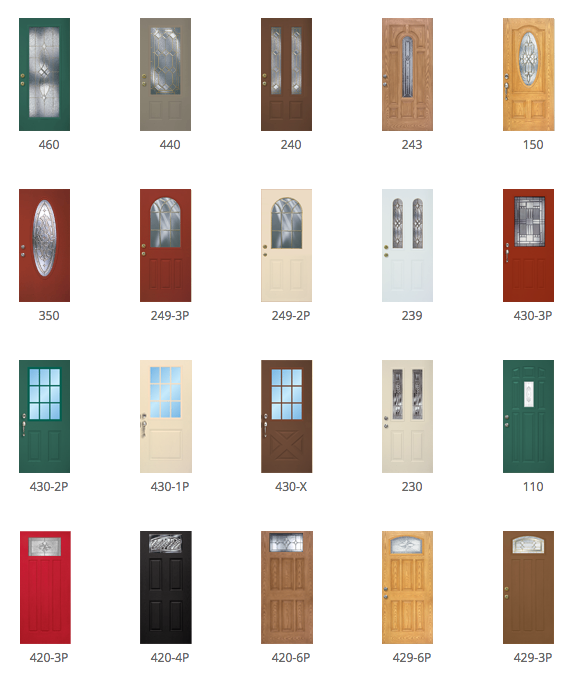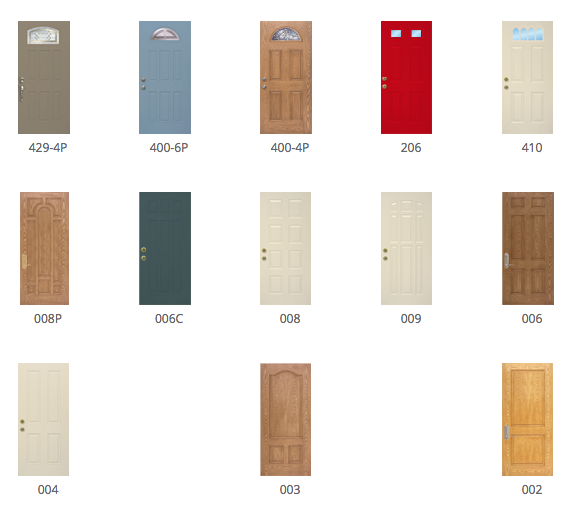 Color

Exclusive Door Finishes
A great door isn't professional-class unless it's pre-finished the professional way!
SIGNET Fiberglass Door Stain Finishes
Signet doors are available in Cherry and Mahogany Series, and 7 new stain finishes. With Signet Fiberglass, we utilize our exclusive DuraFuse™ finishing system featuring P3 Fusion, allowing us to offer a 10-year finish warranty.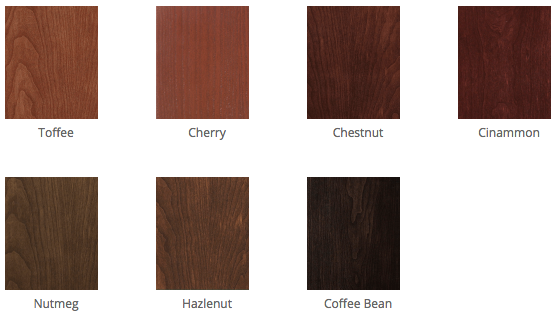 Heritage Fiberglass and Legacy Textured Steel Door Stain Finishes
Seven colors of stain are available for our doors constructed of fiberglass ranging from natural oak to dark mahogany to match your home's existing wood finish. The stains are hand-applied, oven cured and clear coated to create an entry door that has durable, real-wood appeal. ProVia's hand-applied stains are backed by a 7-year finish warranty.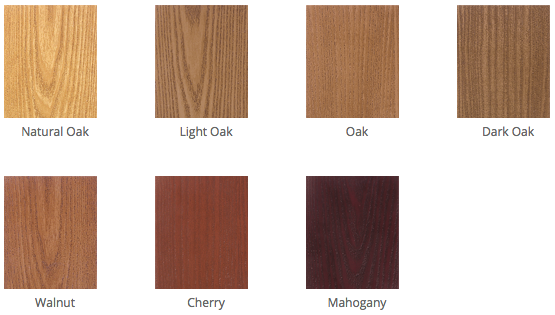 Paint Colors
At ProVia door, we offer 13 featured paint colors and 3 limited colors on our entry door and storm door. We feature the finest paint materials, professionally applied with state-of-the-the art computer controlled processes and oven-cured to ensure long lasting beauty.
Color match your storm door to your entry door!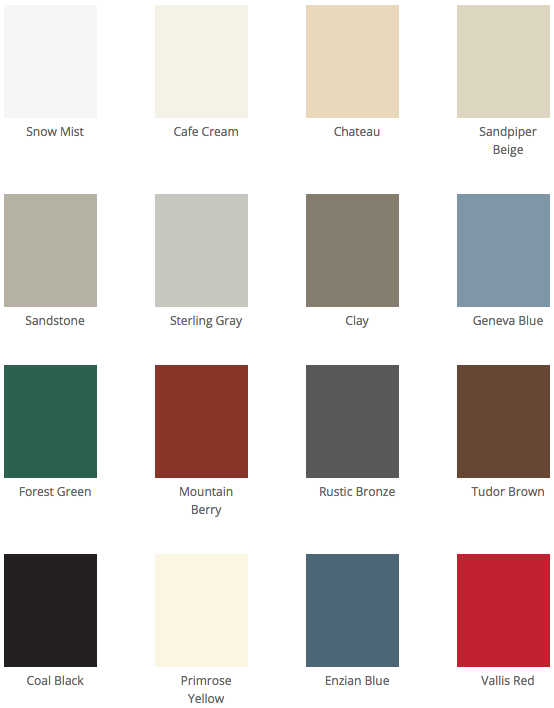 Glass
Glass with Style
Your Glass... Your style! ProVia offers a wide variety of glass options including 15 collections of decorative glass, obscure and clear glass with a variety of internal and external grid options to accent your home's style.

Decorative Glass
Decorative Glass is crafted by hand and assembled into beautifully shaped brass, zinc, or patina caming, our decorative glass features a variety of timeless glass options.

Privacy Collection
Privacy Collection allows light to filter in, while keeping a high level of privacy. Our collection features glass with privacy ratings of 9 or greater.

Inspirations Art Glass
Inspirations Art Glass reflects the inspiration of your imagination in original art glass design and color.

Clear Glass and Grids
Clear Glass and Grids - Select clear glass for a contemporary minimalist look or add a designer touch by adding internal grids to enhance your homes character and charm.

Internal Blinds
Internal Blinds - When you need light and privacy control, select maintenance-free internal binds available in tilt or raise and lower styles.
Hardware
Appealing Hardware

Like a good handshake, the right hardware is solid, friendly, and inviting. ProVia offers Emtek and Schlage hardware to match the architectural heritage of your home. Available in oil-rubbed bronze, satin nickel, and bright brass finish.
Finely crafted Emtek Series hardware is designed for trouble-free service and features heavy-duty die cast construction, a lifetime mechanical warranty, and lifetime anti-tarnish warranty.

Schlage Vintage Series offers you classic elegance with care-free reliability. Schlage hardware is solid cast brass for long lasting beauty, every detail engineered for reliable operation, and guaranteed with lifetime mechanical and anti-tarnish finish warranties. Available in 10 year and Lifetime finishes in bright and antiques brass, satin nickel, and aged bronze.
Schlage Classic Series hardware can fill your needs when you desire something understated, yet beautiful and lasting. ProVia Door offers a wide selecting of locksets and deadbolts and solid brass accessories including knockers, mail or magazine slots, and kick plates among other accessories. See a ProVia door catalog for full details.
Security
Confidence in Knowing Your Home is Secure
Nothing is more important than the safety and security of your family and protecting your homes' valuables. At ProVia door, a secure residential door and safe entry is of utmost importance and another reason why professional-class doors are a better alternative to consumer-grade doors.

A 20-gauge security plate reinforces the lock and deadbolt area of all full wood framed doors providing extra strength and to help prevent kick-ins

ProVia's Heritage™ Fiberglass door has a reinforced lock area providing extra strength, security, and a solid mounting surface for decorative hardware

Trilennium Multi-point hardware

Our Legacy™ 20-gauge galvannealed steel doors are the strongest doors available in the residential market

To reinforce the lock and deadbolt area, we add commercial steel to our 20-gauge steel doors

Legacy™ 20-gauge steel doors featureTab and Slot mechanical interlocks to conjoin the strongest door in the residential market

18-Gauge steel L-frames come standard with a 12-gauge hinge plate welded on for extra strength and security

To reinforce the lock and deadbolt areas, we now add a rigid composite lock block to all our steel doors
ProVia Sidelites
Add elegance to your entry with sidelites that add light and style. Available in a wide variety of styles and glass combinations, you can find a sidelite to accentuate your front entry.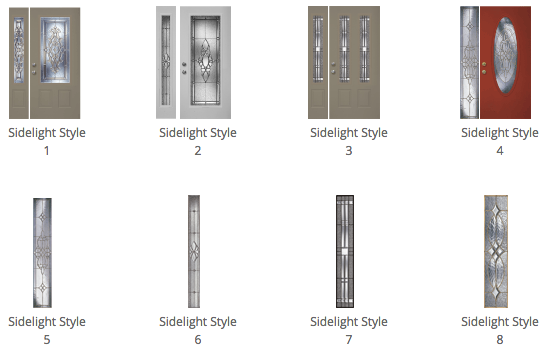 ProVia Transoms
Bring more light into your entry. A transom is simply adding a window above your entry door. Choose from rectangle, ellipse or half-round transoms in a wide variety of glass styles.

Other Features

The high performance, heat resistant window trim is warranted not to warp, crack or pull away from the door, even in sunny or higher temperature applications.

ProVia doors have a superior polyurethane core which adds to the doors energy efficiency rating.

Rot-resistant wood frame and brickmold is treated with PineGuard™ and carries a Lifetime Warranty, and is available with PVC vinyl coated aluminum frame cladding outside.
A ProVia Door Exclusive!

We include a solid brass, fully adjustable strike plate of our own exclusive design. This unique 2-piece construction makes our doors easier to custom fit.

Our Sahara™ heavy-duty extruded threshold has a 1 1/2" wide thermal barrier oak-like riser that will not warp or rot while providing excellent energy efficiency. Also available with an anodized brass or bronze finish.

The weatherstripping along the top and sides of the door is made of energy efficient Q-Lon and interlocks with the Q-Lon corner seal for the most efficient seal you'll find for keeping moisture, air and dirt out of your home.

Heavy-duty ball bearing hinges come standard with every entry system.

Bulb and blade sweep virtually eliminates drafts keeping your home comfortable.