Patio Covers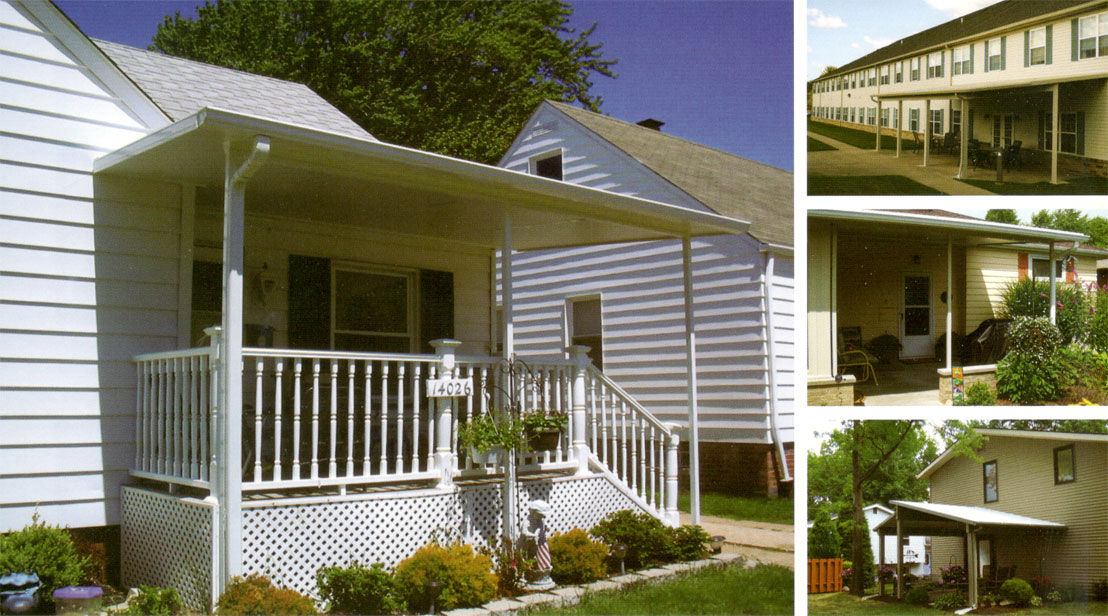 Why an Oasis® Patio Cover?
An Oasis® Patio Cover from Joyce Manufacturing Company is an excellent choice to enhance the usability of your outdoor space. Compare these features and benefits:
Protection from sun, snow and the elements
Keeps patio area cooler
Perfect for covering cars, furniture, hot tubs, and more
Keeps leaves, debris and bird deposits off of your patio or deck
Krystal Kote® finish prevents scratches and discoloration
Shingleable roof panels available for any shingle application
Skylights available in operating and non-operating styles
Crown molding included to conceal fasteners for a more attractive appearance
Available with our extruded gutter and downspout kit which is five times stronger than conventional gutters
Flexible header adjusts to pitch of the roof and is stronger due to the thickness (.090 extruded aluminum
Installation and assembly fasteners included
TCA-Guard® protected means no wood boring insects
Easy to add sunroom walls and convert space into a seasonal or year-round sunroom in the future
Very affordable
Quick installation
Minimal pitch requirements
Heavy duty extruded 3' header and post system
Roof systems for all climates
Available in white or beige
High density EPS foam insulation
Everything Begins with the ClimateMaster® Compression Fit Room System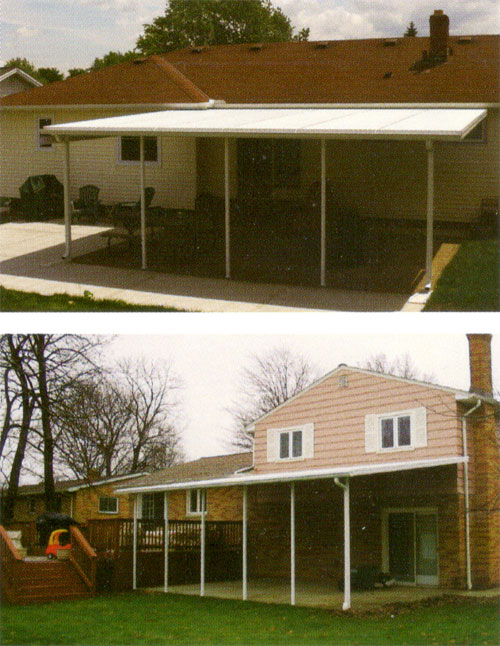 Two Piece Mullion
The unique two-piece mullion system joins the roof sections together to create a gasket-like compression seal that will provide a lifetime of protection. The compression seal does the job, not the caulk.
Krystal Kote® Paint Process
Joyce uses an electrostatically applied polyester paint process. Ths process bonds the paint and the Krystal Kote® in an electrically charged spray paint booth. The result is a finish the resists chip, dent, fade, or scratch.
Other paints are usually a baked-on enamel, or wet paint similar to tubs and sinks, that scratch, fade, and chip over time.

Extruded Gutter
Five times stronger than conventional gutters
Matches the look of the home
Carries heavy amounts of rain or snow
Flex Header
Adjusts to pitch of the roof
.090 extruded painted aluminum allows for longer span between posts
3" x 3" Post
.100 painted extruded aluminum
10-20% stronger than a 4" x 4" post (depending on height)
Lifetime support of roof
Typical 12' x 12' cover requires only 2 posts